Coffee Protein Balls
Date:
Friday, 8 October 2021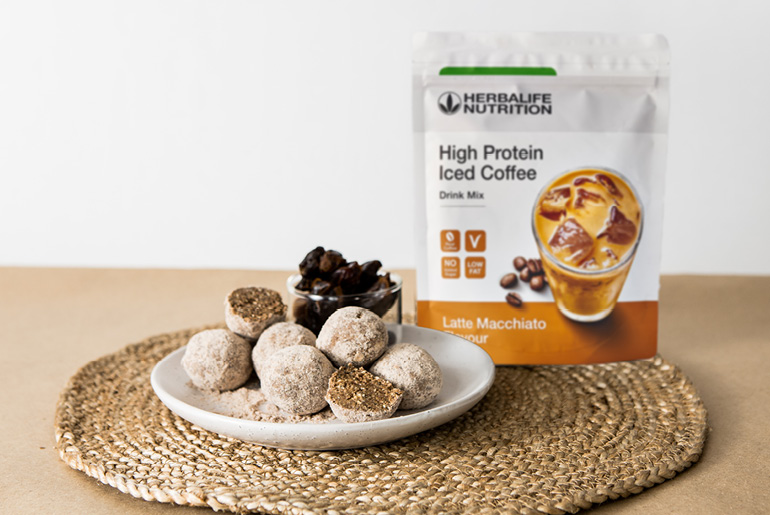 Ingredients (Makes 10, serving size: 2)
2 scoops

 

Herbalife Nutrition High Protein Iced Coffee Mocha or Latte Macchiato Flavour
2 scoops (50.5g)

 

Herbalife24 Rebuild Strength
1 cup

 

dates
2 cups

 

rolled oats
2 tsp.

 

honey
2 Tbsp.

 

chia seeds
Directions:
Soak dates in warm water for 5 minutes.
Combine High Protein Iced Coffee and Rebuild Strength, oats and chia seeds in food processor.
Add dates and honey and blitz until combined.
Note, if needed, add small amounts of water until mixture is soft enough to form soft balls.
Roll in High Protein Iced Coffee to coat outside.
Store in the fridge for up to a week.
1 Serve:
194 Calories
12g Protein
Always read the label – use only as directed.
Formulated Caffeinated Beverage, contains caffeine and is not recommended for children, pregnant or lactating women and individuals sensitive to caffeine. This food is not a sole source of nutrition and should be consumed in conjunction with a nutritious diet.
For illustration purposes only. Final result may differ from image. Serving suggestion.
Nutritional information is approximate and based on values obtained from www.CalorieKing.com.au.